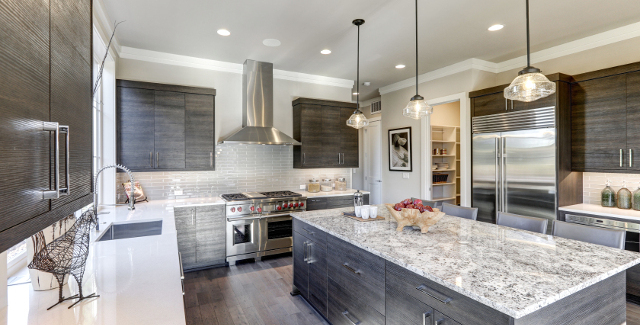 Of all the rooms that need organizing, your kitchen probably needs it most and lends itself to it the least. Fortunately, pulling that together is probably easier than you think.
You know what they say…the kitchen is the heart of the home. It is a very busy place! Let them visualize their items in the kitchen so much so that they can even see themselves making Aunt Sally's lasagna recipe in the kitchen!
Countertops. Get started by clearing the counters as much as you can. Most people's kitchen counters attract clutter that has nothing to do with cooking, baking or eating—papers and car keys and pens and all the plethora of your family's life. Clear it off. If you don't have a junk drawer (who doesn't have a junk drawer?), start one. No…you don't need 3! Buy some key hooks. And file folders. Find a space for everything—and don't rely on the counter.
Space. And speaking of space, most kitchens don't have enough. So create some more in the spaces you do have. Maybe purchase a magnetic strip or two that you can mount on the wall for knives and such. Try installing a pull-out rack for pots, pans, cookie sheets or even seldom-used appliances in a cabinet that right now simply has shelves in it. Not only will that make better use of the space inside, it will create more convenience when you need those items.
Cabinets. Another less-onerous trick is to put all the most-frequently-used items in front of your cabinets and put the less-used items in the back or even in a closet somewhere. What, you're going to miss the three-pot crockpot system your mom gave you for Christmas 10 years ago?
In addition, try culling your cupboards (attention, ugly coffee mugs from tourist sites, your time is short) by pulling out those items you don't use much and storing them in the basement or garage. If you want them, you know where to find them. You won't—they're going to Goodwill soon enough.