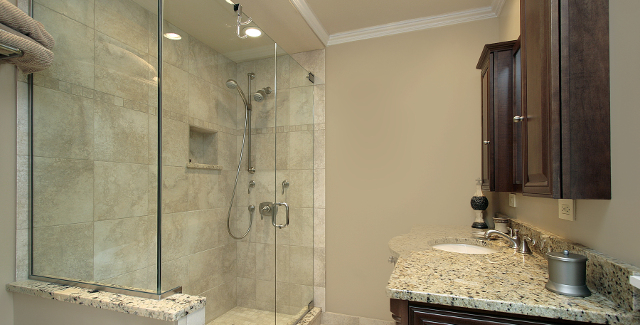 In 2020 everyone got a really good look at their home. A really long, hard look. Sheltering in place caused a surge in home renovations and remodels of all sorts – from kitchens to outdoor spaces. But with the added focus on cleanliness during the pandemic, all eyes are on the bathroom this coming year.
In 2021, trends in décor for bathrooms will turn inward, making this essential room less about glam and more about self-care and ease-of-use.
Floating Sinks and Cabinetry. No cabinet legs to clean around and simple modern design give a sense of simplicity with less in the sight line, in a room where clutter can happen fast.
Larger Tiles (read: less grout). With less to clean, and in warm, neutral tones with natural materials, larger tiles for showers and floors give a comforting, luxury feel without all the maintenance work.
Outdoors In. Floor to ceiling windows, a plethora of potted plants and even a renewed love of decorative foliage-themed wallpapers connect to the calming presence of nature.
Soaker Tubs. What everyone at the end of every day of 2021 needs is a long soak in one of the currently most-coveted bathroom centerpieces – the oversized soaker tub – the epitome of self-care.
Bath Tech. From mirrors with touch control lighting, to smart toilets with touch-free flushing and self-closing lids, to heated flooring, advances in bath tech make life easier and more germ-free in 2021 bathroom renovations.